Measuring Resilience
The Greater Carlisle Project and Borough of Carlisle partnered with Dickinson College to measure the resilience of our community. Sixteen Dickinson students conducted the research as part of a fall 2016 course, Building Sustainable Communities. The students and Carlisle were the first in the world to use the online City Resilience Index (CRI). The CRI is a framework and tool that was developed by Arup International through research with 26 cities around the world and is being used in the Rockefeller Foundation's 100 Resilient Cities project.
The CRI measures community resilience in four domains: health and well-being; economy and society; infrastructure and ecosystems; and governance and planning. The student researchers collected information about each of the four domains by interviewing 30 leaders from local government agencies, non-profit organizations, community development corporations and businesses, as well as by collecting and reviewing numerous public reports, websites and databases. The student researchers input the information they collected into the online CRI tool and generated a visual profile of community resilience in Carlisle.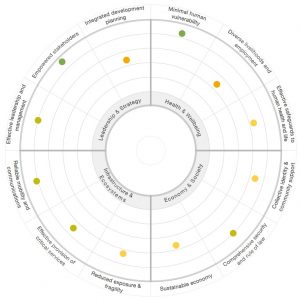 The results of the fall research were presented at a December workshop that was attended by 35 members of the Carlisle community. Participants engaged in conversations facilitated by the students, giving feedback on the approach and findings of the research, sharing their own perspectives on resilience, and exploring possible next steps.
The work is continuing. Three students, Max Lee, Matt Pasquali and Olivia Termini, are doing further research in spring 2017 by convening focus groups to refine and improve measurements of community resilience and to develop recommendations for increasing community resilience. Their findings and recommendations will be presented at a Greater Carlisle Project community meeting in May 2017 (date, time and location to be determined).
For more information about this project, contact Neil Leary (717-245-1954; learyn@dickinson.edu).