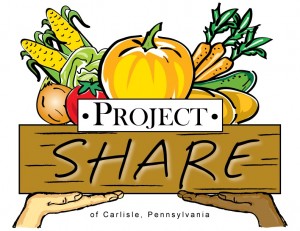 MISSION: In response to God's call to love one another, Project SHARE (Survival Help And Recipient Education) provides food, clothing, nutritional education, and links to programs to empower people in need within the greater Carlisle Area.
Project SHARE  is an interfaith cooperative effort, begun in 1985, involving over 66 local congregations, schools, and civic organizations. Contributions of food, money, and volunteerism provide essential basic assistance to more than 1000 families each month. Of those needing assistance, about 20% are seniors and nearly 30% are children.
Project SHARE's sustainability programming includes:
Growing vegetables in a high tunnel on the grounds of the Carlisle High School; mainly tomatoes, squash, herbs, and peppers. Recipients learn to nurture and harvest these and other annual crops.
Recycling cardboard using a baler that was donated around 2005. They receive cardboard from many different community locations and raise about $20K a year from this resource.
Teaching canning and other forms of food preservation to those who come for food or people in the local churches to encourage food preparation and the best use of resources.
Gleaning fresh fruit and vegetables at approximately 3 dozen local locations; harvesting whatever the farmer can't use or sell. They also make use of the 2 local produce auctions in Shippensburg and extras from area CSAs.