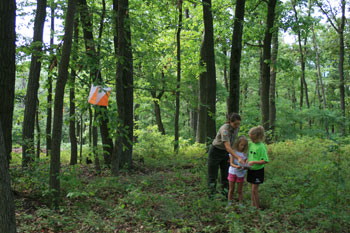 Sitting astride South Mountain, Kings Gap offers a panoramic view of the Cumberland Valley. Sixteen miles of hiking trails interconnect three main areas and are open year-round. Kings Gap offers environmental education programs from the pre-school environmental awareness program to environmental problem solving programs.
The grounds are open to the public year-round from 8:00 a.m. to sunset. Sixteen miles of hiking trails connect with three main day use areas of the center: Pine Plantation Day Use Area, Pond Day Use Area and Mansion Day Use Area. A 32-room stone mansion on the mountaintop houses the center's office and the training center. The office is open weekdays from 8:00 a.m. to 4:00 p.m. and weekends and evenings when a public program is scheduled. A schedule of programs is available from the center office or at the three day use areas.
The mansion serves as the William C. Forrey Training Center for the Commonwealth, providing meals and overnight lodging for government agencies. The comfortable surroundings make it an ideal location for productive work sessions and meetings. The training center has a maximum day use capacity for 45 people and accommodates 23 people overnight.