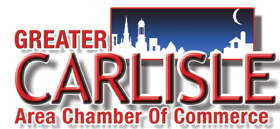 The Greater Carlisle Area Chamber of Commerce seeks to promote and foster responsible economic development. The Chamber accomplishes this goal by providing the necessary resources and opportunities for businesses to prosper. The Chamber fosters communication between partners to enhance networking opportunities and increase communal benefits. Additionally, the Chamber has a variety of committees and task forces targeting specific sectors of the Greater Carlisle economy in order to effectively and efficiently provide the best economic opportunities.
Our Vision
Our Vision is to be the recognized leader in fostering business development in the Central Cumberland County area.
Our Mission
To be a catalyst that will actively promote and support responsible economic growth in the Carlisle region, while continuing to provide enhanced benefits for our membership and a vibrant quality of life for our community.
What does the Chamber do, exactly?
Founded in 1913, the Greater Carlisle Area Chamber of Commerce has been serving the Carlisle, Pennsylvania, Area for more than 100 years. Our mission is to serve as a community catalyst that encourages and supports economic growth and stability. How exactly do we do that?
Through listening to and meeting the needs of our members and community, as best we can.
In order to do that:
•We help connect people to what they need to start a business here, grow a business here — or even move a business to Carlisle.
•We plan, host, and partner in diverse networking and professional-development events.
•We foster dialogue and communication with our members and community partners, about how we can better support them.
•We offer exclusive advertising opportunities to members, that showcase their business.
…and much, much more!
We also help guests and tourists find what they're looking for, in order to have the best visit possible. Need recommendations for everything from lodging to shopping and sightseeing while you're in town? We can refer you to chamber members and community partners. And if you're staying longer than a vacation, we can help with relocation information, too!