[youtube_sc url="https://www.youtube.com/watch?v=61RDrdmn23E" autohide="1″]
Located in the Cumberland Valley, one of Pennsylvania's most beautiful areas, Cumberland Valley Rails-to-Trails Council (CVRTC) regards preserving the beauty and history as its mission. The 11-mile Cumberland Valley Trail , once a stretch of railroad tracks from Shippensburg to Newville, is donated to CVRTC by Conrail in 1995.
CVRTC has spent the last 16 years developing the former Cumberland Valley Railroad into an improved multi-use trail to serve all ages and abilities. The first 4 1/2 miles of trail was completed in the fall of  2004 and the next 5 miles was complete in the fall of 2006.  The trail is now complete from the Shippensburg Township Park outside of Shippensburg to McFarland Street in Newville, approx 9.5 miles. 
Trail enthusiasts can enjoy walking, jogging, bicycling, horseback riding, and other non-motorized recreational uses. The trail, which is wheelchair-accessible,  has a crushed limestone surface except for the last 1/2 mile at the Newville trail head which is paved. All of the road crossings between these two points have been graded to meet ADA specification and paved if it is a long grade.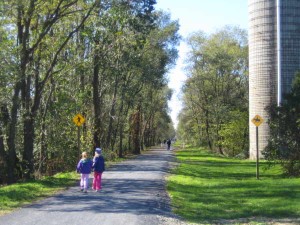 CVRTC also recently purchased the old railroad corridor between Newville and Carlisle.  A master plan has been completed and we are now seeking funding to start development.  Completing of both projects will connect the business districts of Shippensburg and Carlisle along with the campuses of Shippensburg University and Dickinson College.
CVRTC is an all-volunteer, non-profit, charitable organization dedicated to conservation, historic preservation, recreation, and alternative transportation in the Cumberland Valley of Pennsylvania through the development of multi-use trails along former railroad corridors and other areas.