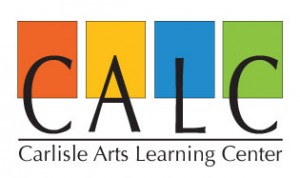 The Carlisle Arts Learning Center (CALC) serves and enriches the community by encouraging creativity and self-esteem through exploration and appreciation of the visual arts. It does this via classes and workshops, exhibits, and participation in community events. Since its founding in January 1992, CALC has offered a variety of courses for children and adults in a number of settings, including the Carlisle YWCA, Carlisle Community Center, One West Penn, Cumberland Crossings, and Memorial Park Train Station. Disadvantaged children and adults may participate in CALC classes at reduced charges via its scholarship program. In 2001, CALC began offering customized workshops at the request of organizations like the Girl Scouts and the YWCA summer day camp program. Since 1998 CALC has also mounted a variety of arts and craft exhibits that are free to the public.
ArtWORKS!: An after-school program for middle school students that promotes self-esteem and giving back to the community through the arts.
Works in the Windows: A partnership that provides artwork in vacant storefront windows.
Art Classes, Camps, and Lectures: Educational opportunities for both children and adults in a variety of mediums.
Hope Station and CONNECT Summer Art Camps: Full scholarship-based camps that provide all children the access to art.
Empty Bowls: A fundraising event organized by CALC to benefit Project S.H.A.R.E.
Exhibitions: Opportunities for local and regional artists to exhibit their work in CALC's gallery, sales gallery, and off-site locations throughout Carlisle.
Art on the Farm: A partnership with Pennsylvania Association for Sustainable Agriculture to showcase Central Pennsylvania's unique agricultural resources through art, education, and food.
Scholarships: CALC provides financial aid to assure all children and adults have access to art classes and camps.